THE TEMPLE WARNING INSCRIPTION
The Temple Warning Inscription stone; found in Jerusalem in 1871; housed in the Archaeological Museum of Istanbul, Turkey. It measures: 13¼"x 8¾"x 5¾".
These markers were placed in the outer court of the Temple platform warning all Gentiles not to enter the inner court area of the Temple on penalty of death.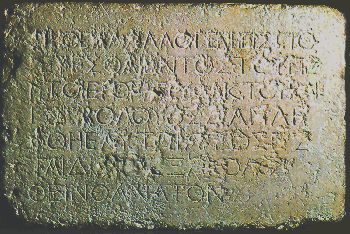 MHQENAALLOGENHEISPO
REUESQAIENTOSTOUPE
RITOIERONTRUFAKTOUKAI
PERIBOLOUOSDANLH
FQHEAUTWIAITIOSES
TAIDIATOECAKOLOU
QEINQANATON
Rendered with word spaces, hyphenation, and punctuation:
Translated by Arnold vander Nat:
MHQENA ALLOGENH EISPO-
REUESQAI ENTOS TOU, PE-
RI TO IERON, TRUFAKTOU KAI
PERIBOLOU. OS D AN LH-
FQH, EAUTWI AITIOS ES-
TAI DIA TO ECAKOLOU-
QEIN QANATON.
NOT ONE FOREIGNER IS TO
ENTER INSIDE THE, AROUND
THE SANTUARY, BARRIER AND
EMBANKMENT. HE WHO IS
SEIZED, HIMSELF RESPONSIBLE
IS FOR THE FOLLOWING
DEATH PENALTY.