A MAP OF THE CITY OF JERUSALEM


Sebastian Munster, COSMOGRAPHIA UNIVERSALIS

, 1550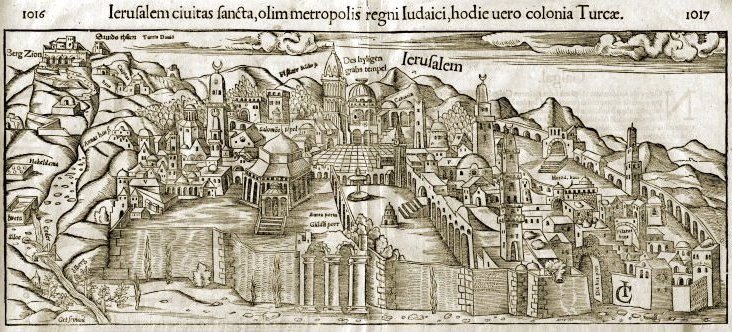 "Jerusalem Holy City, Once capital of the Jewish kingdom, today a colony of Turkey"
This stylized 16th century map view of Jerusalem by Sebastian Munster is characteristically inaccurate in its detail. The central view is of the Temple Mount, seen from the east, from the Mount of Olives, with north to the right. The western part of the city has been skewed to the left side, as has the southern part. Since the gate in the eastern wall known as the Golden Gate is depicted in ruins, this view may derive from ones earlier than 1538, when the Ottoman sultan, Suleiman the Magnificent, rebuilt the walls of Jerusalem in the manner we know them today. As you move the cursor over the map, the various locations mentioned there will be highlighted.